Education Solutions

Create A Safe Environment For More Productive Learning
Our Integrated Communication Solutions Enhance School Safety And Improve Efficiency
Overcome Challenges By Improving School Communications
We know that your district is constantly being pressed to boost student safety and increase staff efficiency on an ever-shrinking budget. Motorola's instant, reliable communication solutions excel at helping keep students and staff safer, tracking bus fleets accurately, and improving overall efficiency – with flexible options you can afford.
When you equip your staff and bus fleet with Motorola's digital communication solutions, they can connect directly to each other wherever they travel and connect directly to first responders instantly should an emergency arise.
Increase Safety And Security Of Students And Staff
According to a U.S. Census, 80% of schools expect a violent incident to erupt on their grounds. In our nationwide survey, 99% of educators say creating a safe, secure environment is their top priority.
These are the facts on the ground, and you are faced with how to gain greater safety with fewer dollars. Next-generation communication solutions instantly connect staff and public safety when emergencies occur. You can keep track of children on the move, monitor buses and routes in real time, and link districts and staff efficiently on one device.
Improve Operational Efficiency
Boost productivity and cut costs with real-time mobile connectivity. When you need to communicate quickly and easily with all school personnel, the best way is over two-way radio. With the touch of a button, you securely link multiple teams across the district. Motorola's next-generation solutions ensure staff can respond rapidly and work efficiently wherever they go. With durable devices and school-specific systems, you'll have technology that connects directly to your needs.
Bus Fleet Tracking And Management
Coordinate your fleet with exceptional efficiency. Transport students safely and improve fleet efficiency with our GPS-enabled radios. Features like emergency call buttons alert dispatch when drivers need assistance, and remote monitoring lets you listen in when a driver is unable to respond. Data applications inspect buses, check fuel usage, track upkeep and inform you if bus doors are left open. We designed our next-generation solutions with safety, accountability and efficiency in mind, so you always stay connected. For schools to flourish as inspiring places to learn, they need to operate safely and efficiently. Effective communication, extending across the whole community, is essential to keep the risk of disruption to a minimum. If an incident does occur, whether it's a bad snowfall or a threatening intruder, school personnel across the district can connect instantly and seamlessly to keep students safe.
See how closer collaboration, using the latest integrated voice and data communications, is transforming schools for enhanced safety, greater efficiency and brilliant learning experiences.
See What's Possible With The New MOTOTRBO.
Solutions
MOTOTRBO
Coordinate And Collaborate Instantly
MOTOTRBO two-way radios unify your staff and fleet with instant, always available communications, anywhere they go. When emergencies arise - from an injured student to an intruder on campus – Motorola's two-way radios connect staff directly and instantly to public safety agencies.
Choose the right device for the right user, such as the ultra-thin SL 7550 portable radio or the XPR 5500 mobile with integrated Bluetooth®. Wireless accessories let personnel interact freely, so bus drivers can keep their hands on the wheel and eyes on the road.
MOTOTRBO integrates voice and data seamlessly, with enhanced features that are easy to use – including integrated Bluetooth, GPS location tracking, text messaging and Intelligent Audio that automatically adjusts volume to the environment. Whether a custodian is in a boiler room or a coach is in a crowded gym, you can be sure they will hear and be heard clearly.
Learn How Schools Are Using MOTOTRBO
Diverse Staff. Different Locations. All Connected With Integrated Radio Communications.

Superintendents And Principals
A rural school district coordinates its bus fleet using XPR 7550e radios. A principal uses transmit interrupt to break into the channel and report a missing student. They can also use their smartphones to communicate with radio users, from school personnel to first responders with WAVE technology.
Hall Monitors And Maintenance
Compact, rugged portable radios. Digital voice communications with crystal-clear audio that overcomes noisy hallways, loud boiler rooms and bustling playgrounds.
Teachers And Administrators
The slim SL300 portable light digital-capable radio for clear voice and excellent audio. Ideal for coordinating tasks and activating rapid response. Simple, rugged and easy to use.
Security And Police Officers
Portable radios with digital voice and data. Rugged and reliable for an instant connection and direct communication with first responders in emergencies.
Bus Drivers And Transportation Managers
The bus driver responds to the group call using her XPR 5550e mobile radio to let everyone know the student is safely on-board her bus.
DMR (MOTOTRBO) Radios
Intelligent Radio For The Smart, Connected World.
The MOTOTRBO two-way radio portfolio offers you a wide choice of devices, from simple voice-only models to feature-rich voice and data radios. All work together seamlessly to deliver advanced features to enhance your safety, productivity and efficiency. With exceptional voice quality and outstanding usability, MOTOTRBO keeps your workforce connected.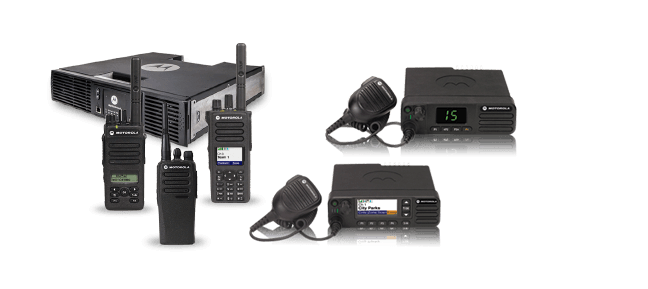 Next-generation Radios
The dramatic enhancements to the MOTOTRBO portfolio deliver the audio quality, coverage, battery life and built-in intelligence that allows users to work confidently and safely.
Enhancements
Safety. Efficiency. Productivity.
Next-generation MOTOTRBO™ radios feature longer battery life, indoor location-tracking and integrated Wi-Fi allowing all radios in a system to be reprogrammed simultaneously without taking them out of users' hands.
MOTOTRBO Systems
Systems Specifically Designed For Your Business

No matter how large or small your enterprise, MOTOTRBO offers a wide range of systems specifically designed for your business – for the days ahead and the years beyond. You get the best of two-way radio with digital technology and enjoy integrated voice and data communication, increased capacity, enhanced features and exceptional voice quality, across the city and around the globe.
Direct Mode & Conventional
Baseline Single Site Coverage and Capacity
IP Site Connect
Cost-Effective Coverage for Multiple Sites
Capacity Plus
Cost-Effective Coverage and Capacity for Single And Multiple Sites
Capacity Max
Coverage, Capacity and Control for Single and Multiple Sites
Connect Plus
Exceptional Coverage for Single and Multiple Sites
Read more about MOTOTRBO Systems
MOTOTRBO Applications
Drive Safety Home With Operations-Critical Applications

GPS location tracking on two-way radios helps schools monitor bus locations and manage logistics. Bus-fleet managers can determine the speed and location of vehicles, engine alerts, hard braking, fuel consumption and ignition status. They can re-route buses around local accidents and traffic jams, pinpoint where a bus is in real time, and see whether a driver is deviating from the route. Other apps enable schools to inspect buses, track upkeep and inform them if bus doors are left open and if drivers are on duty.
Operations-critical apps beyond the fleet also enhance safety, increase efficiency and reduce costs. Security personnel can be automatically notified if a school door or gate is breached and remotely open or close it. Maintenance can turn lights on or off, control sprinklers and handle a multitude of other tasks with their two-way radios.
Voice Dispatch
Giving you centralized control of your workforce, these applications offer customizable user interfaces to allow your dispatcher to coordinate your staff efficiently and effectively. They also enhance business connectivity by allowing telephony interconnections and multi-system patching.
Command And Control
These applications work behind the scenes of your MOTOTRBO network to enhance the efficiency and responsiveness of your system. Interfacing to a Work Order Ticketing system, managing alarms and telemetry, and connecting to other messaging systems, they bring significant benefits to your school.
Location
Track your vehicles and your staff for improved safety, security and accountability. These applications allow you to make the most of MOTOTRBO's GPS capabilities, and some even offer indoor location tracking capabilities.
Learn more about MOTOTRBO Applications
MOTOTRBO Accessories
The Power Of Your Radio Unleashed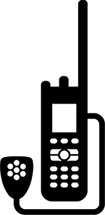 MOTOTRBO radios are already best in class, but to help you work at your best, you need enhancements targeted to your specific workplace. Motorola developed a line of accessories with unique features designed to optimize the performance of your radio in your work environment, unleashing the full power of the industry's most advanced digital radio platform. From discreet Bluetooth earpieces to efficient battery solutions, Motorola's complete portfolio of accessories optimizes the performance of your MOTOTRBO radio. They are designed to help you perform your best, wherever you work, and unleash the power of the industry's most advanced digital radio platform.
Earpieces
Headsets
Bluetooth® Wireless for Portable and Mobile Radios
Batteries and Chargers
Remote Speaker Microphones
Mobile Radio Microphones
Carry Solutions
Installation and Mounting Kits
Learn more about MOTOTRBO Accessories
WAVE Interoperable Push-To-Talk Platform
Connect Anyone On Any Device, On Or Off Campus
Unified communications is one of the most pressing concerns for educators around the country. This is especially true when it comes to reaching personnel wherever they go, such as bus drivers on daily routes or superintendents traveling on business.
Today, educators tote an array of devices, from personal smartphones to digital tablets. Now, work group communication applications can be installed on virtually any device to extend the reach of school radios to those who may not carry them. This enables the principal at a convention or the superintendent off campus to talk on their smartphones with radio users at school.
Radios can be linked to smartphones, tablets, laptops, PCs, landlines and even intercoms on any public or private mobile data network, including Wi-Fi. Schools maximize the resources they already have and let staff keep their own devices and service plans.
EVERY DEVICE. EVERY NETWORK. EVERY TEAM. CONNECTED LIKE NEVER BEFORE.
Connect Your Networks
Connect disparate land mobile radio systems and remove barriers to interoperability and mutual aid. With WAVE, you can communicate with key work partners whether or not they are on a Motorola radio system for better real-time coordination and response.
Extend Your Communications
Extend communications beyond radio to include broadband devices and networks, ensuring greater workforce connectivity and interoperability. WAVE connects your smartphones, computers, radios and more onto a single platform so you can freely communicate and collaborate on the device that suits you best, from virtually any location.
Embrace Broadband
Secure, over-the-top PTT on public or private broadband networks provides greater device, network and use-case flexibility. All your teams can connect instantly on the broadband devices they're already using, plus WAVE offers the ability to integrate with other networks when needed.
The New Voice Of The Enterprise: Broadband Push-To-Talk
The revolution is being push-to-talked about. Today, virtually everyone can benefit from push-to-talk (PTT) across their organization.
Download the White Paper
Make Emergency Preparedness Part Of The Lesson Plan
Sixty-eight million children are in school or day care every day, yet over 50 percent of states do not mandate that schools meet minimum standards to protect children during emergencies. Add to this the increase in severe weather events and the need for immediate, reliable, always available communications can't be overstated.
The more information school officials have at their fingertips, the more effectively they can prepare and respond. For example, before a storm strikes, NOAA weather alerts can be transmitted directly to two-way radios or smartphones to warn of impending conditions.
Scalable, multi-site digital trunking systems that link hundreds or thousands of radios also connect institutions or districts. Even users who don't carry a radio can access the system using a work group communications application on their smartphone, tablet or PC.
Calls can be queued during busy times until an open channel is available, key personnel can be assigned priority status when the system is in high demand, and a wireline console can be used for centralized dispatch.
Increase Safety And Efficiency, Down The Hall And Across The District
Dollar-challenged districts know that radio communication is an affordable way to stay connected. They deliver better coverage and clearer voice, a must -have for noisy classrooms and loud buses. Their greater capacity connects more people – from building to building or throughout a district.
Two-way radios have advanced features, such as data applications, and seamlessly link to other devices, including smartphones, tablets, landlines, PA systems and wireless call boxes.
Today more than ever, student safety is a sweeping priority. It's why we work closely with schools nationwide to create safer environments for students and staff. Motorola's innovative solutions, reliable and resilient systems and expert partner network can help your district increase safety and efficiency and foster a better learning experience – from the classroom to the stadium to the bus ride home.
Contact Us for a Free Trial or More Information on How Our Solutions Can Multiply Safety and Subtract Costs for Your Administrators and Educators.
Downloads
Application Briefs/Fact Sheets
Brochures and Spec Sheets
MOTOTRBO
MOTOTRBO Accessories
WAVE Work Group Communications
Case Studies
eBook
Info Graphics
Presentations
Videos
White Papers
MOTOTRBO
WAVE Work Group Communications